About
Specifications
Components
Advantage
Installation
Attention
Detachable structure
Double-shaft mixer can achieve compulsory and continuous mixing
New technology by summarizing the domestic and foreign advanced mixing technology and experience.
Especially suitable for extensive construction with large site large scale and requirement of high productivity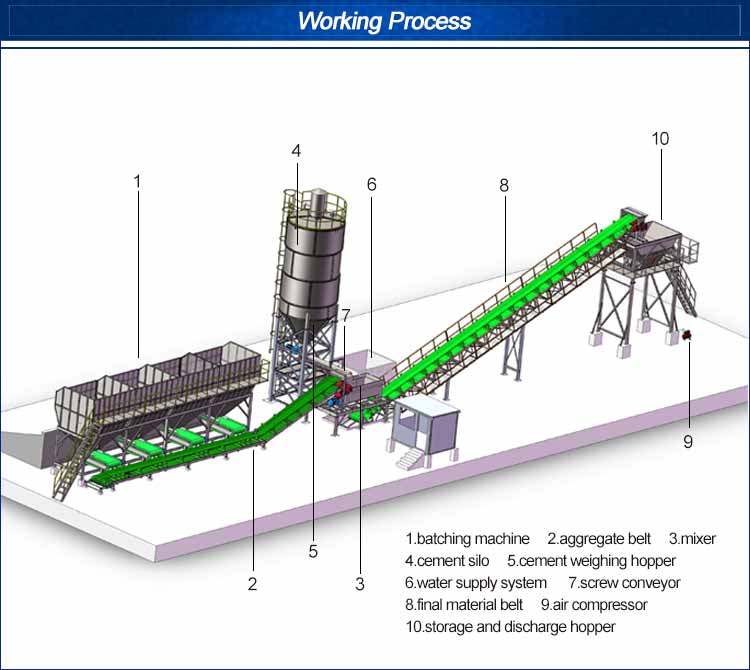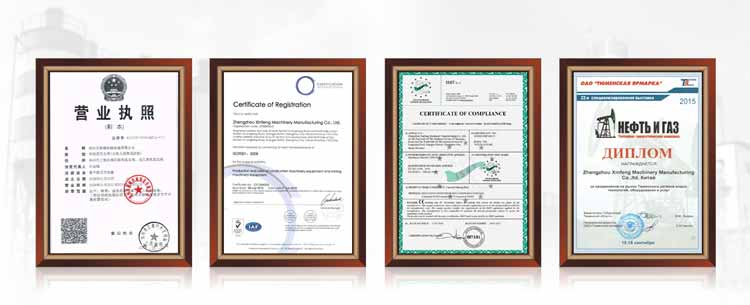 Type
WCD500
Rated productivity
500t/H
Total power
158KW
Type of measuring
Volume
(Weighing Accurary)
Aggregate
±3%
Soil
±3%
Lime powder Coal ash
±3%
Cement
±2%
Water
±1.5%
Max motor power
2×37KW
Aggregate Diameter
≤±60mm
Area covered
50×18m2
Total weight
51t
Mode of speed regulation
Electromagnetic
1 The ingredients supply system: divided hopper belt conveyor of various frequency measurement
2 Cement material supply system: Cement bin (cement bucket) impeller feeding machine of various frequency measurement screw conveyor with electronic scale
3 Automatic water supply system: pressure tank submersible pump pipeline pressure reducing valve water flow meter water jet
4 Aggregate conveying system
Aggregates delivery adopts belt conveyor with small dip angle and annular duct tape that is high-quality with seamless vulcanized joints .The equipment has compact structure operates steadily and reliably and fixed that can efficiently the extend the using life
5 Mixing system: motor reducer twin-shaft continuous mixer
6 Storage system: double-discharge storage silo sidling belt machine air compressor
7
Electrical system: operation control cabinet operating room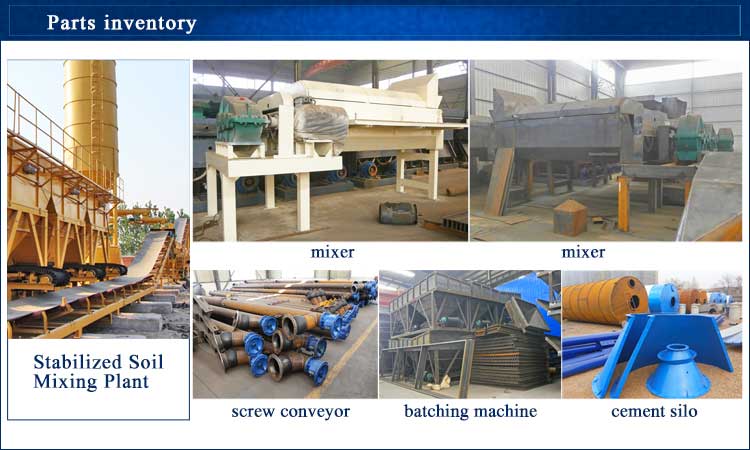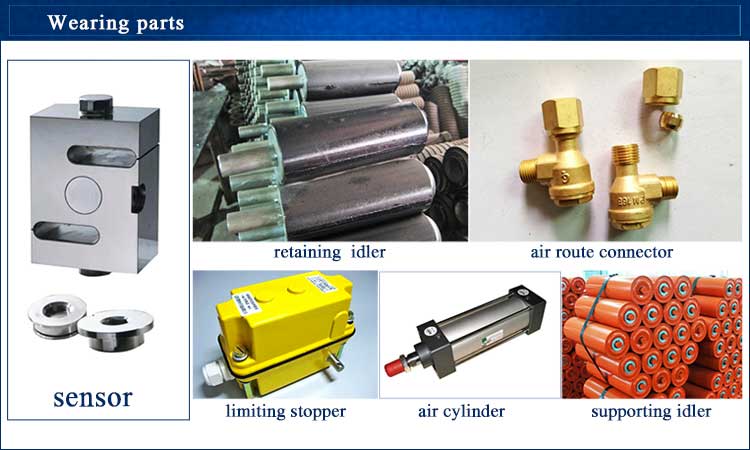 1 The oblique cone and screw on the feeding machine is designed with big caliber so it can avoid phenomenon that feeding machine is easy to be blocked when affected by damp.
2 With widen aggregate bins you can feed with the 50 loader avoiding of mix.
3You can chose not only the conjunct measurement of both pressure signal and speed signal but also pure speed or signal measurement. Both of them are easy to operate and maintain without influencing production.
4 Computer control leads to fluent running which can also reduce accident and improve working efficiency.
5 Both manual-disassembled cement and bulk cement can be chosen.
6 Entire computer control system has the function of process management state detection fault alarm overload alarm and under voltage protection.
7 Single motor drives the reducer while the large gear transmitting synchronously. The machine works stably and reliably and it can resist high impact and have strong ability to stand overload and have a long working life.
8
There is a discharge opening at the bottom of mixer which makes it convenient to clear and maintainance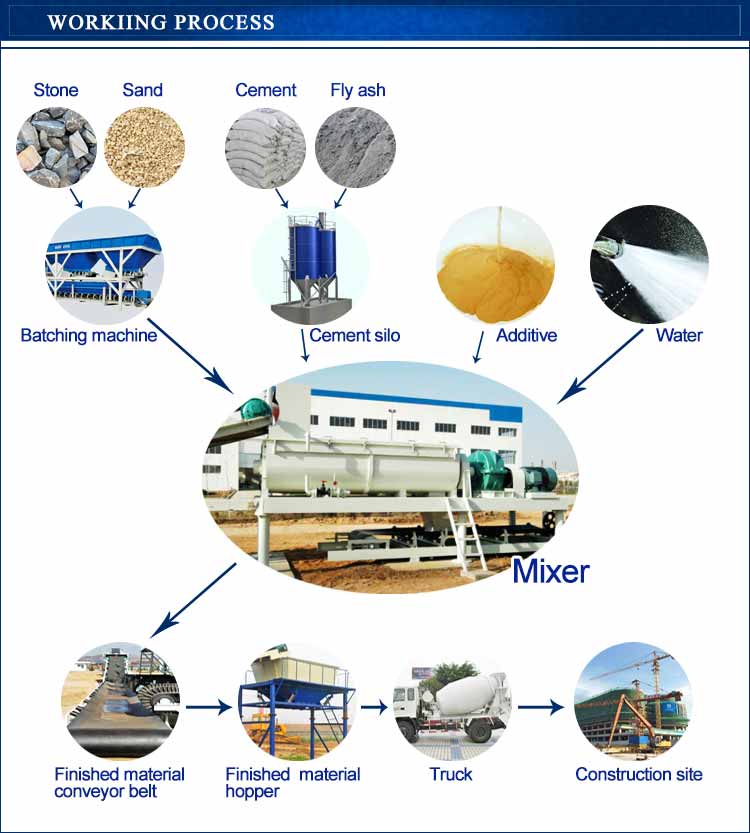 1Installation
Installation site should be plain and well-grounded. The pithead should be higher than ground to prevent the water inflow.
Lift the mixer with lifting device and install four supporting legs connecting angle inclined strut ladder and the downward track. Then place the mixer in the appropriate place of the pit.
2Inspection and preparation before test run:
Check if the connection of the motor and electric element is steady.
Check the connecting bolts between two parts (especially the moving parts) and ensure they are firm
Check if there are sundries stuck in mixing canister and track rack.
3No-load test run
Start mixing motor. At the same time the running direction of two mixing shafts should be same with indicating direction of the signs . If there is any difference change the power connection.
4Over-load test run
Shut down the discharge door and lift the hopper after feeding. Ensure that the hopper can run steadily and stop on the track freely. If there is slipping you should put the hopper into the pit bottom then adjust the big nut in brake motor.
When construction on cement stabilized soil you should obey the following requirements:
1) The clod must be smashed as much as possible and the diameter should not be more than 15mm.
2) The batching proportion should be accurate.
3) The cement should be paved evenly during the road-mixing construction.
4) Watering and mixing should be well-proportioned.
5) The base thickness and elevation should be controlled strictly and the camber slope should be consistent with the surface.
6) When the mixture is at or slightly larger than the optimum water content (it can be 1%-2% larger on hot days ) compact until it reaches the lowest compaction degree confirmed by heavy compaction experiment.